Hong Kong Fashion Week for Fall/Winter
Show Date:
2018/01/15~2018/01/18
Show Place:
Hong Kong Convention and Exhibition Centre
1 Expo Drive, Wan Chai, Hong Kong
Official Website
Fair Dates:
15-18 January 2018 (Monday - Thursday)
Edition:49th
Venue:Hong Kong Convention and Exhibition Centre
1 Expo Drive, Wan Chai, Hong Kong
Opening Hours:
Fair Date Opening Hours Buyer Registration Hours
15 Jan (Mon) 10:00 am-6:00pm 9:30am-5:30pm
16-17 Jan (Tue-Wed) 9:30am-6:00pm 9:00am-5:30pm
18 Jan (Thu) 9:30am-5:00pm 9:00am-3:30pm
Admission:
For trade visitors aged 18 or above only.
(Free admission)
Organiser:Hong Kong Trade Development Council
Sponsor(s) :Hong Kong Apparel Society Ltd
Hong Kong Fashion Designers Assn
Hong Kong Garment Manufacturers Assn Ltd
Hong Kong Knitwear Exporters & Manufacturers Assn Ltd
Hong Kong Woollen & Synthetic Knitting Manufacturers` Assn Ltd
Knitwear Innovation and Design Society
Textile Council of Hong Kong Ltd
The Federation of Hong Kong Garment Manufacturers
The Woolmark Company, Greater China Region
Major Exhibit
Categories:
All kinds of Fall/Winter clothing, fashion & clothing accessories, garment related products, services & supplies.
Ladies` wear
Men`s wear
Babies and children`s wear
Sportswear
Lingerie
Swimwear
Evening wear
Handbags
Shoes
Costume jewellery
Fabrics
Buttons
Labels
Inspection, testing, certification & verification services
Fashion magazines
Major Exhibit
Categories:
"Women`s Wear", "Knitwear", "World of Fashion Accessories" and "Sewing Supplies"; will feature basic mass merchandise
"Fashion Gallery" will feature high fashion and brand labels
"Emporium de Mode" - a unique premium section dedicated to present stylish and distinctive garments in an elegant setting
Special product zones: Activewear & Swimwear, Bridal & Evening Wear, Cashmere & Wool, Denim Arcade, Fabrics & Yarn, Fashion Jewellery Feast, Handbags Select, Infant & Children`s Wear, Intimate Wear, Men in Style, Packaging and Design, Salon of Scarves & Shawls, Thermal Clothing, Trade Services and Testing, Certification & Inspection, World of Youth Collection
CENS E-Magazines
Taiwan Pavilion Exhibitor List
Booth: 1D-D02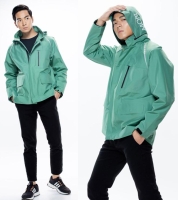 •Hyperbola 3 layer functional fabrics •DWR(C6)+PRINT+BREATHABLE LAMINATION+TRICOT •Wind and Wate
©1995-
2006
Copyright China Economic News Service All Rights Reserved.